Quantum Simplify Multi-site Backup

Reduce Cost & Complexity of Multi-Site Data Protection
From mergers and acquisitions, to global expansion, efficiently managing multi-site locations proves to be a challenge for even the largest organizations. Small or remote offices often lack IT resources, are using disparate technologies, and are often at risk for non-compliance or breach. Plus getting data to the data center has been manual, whether it's tape handling, or inefficient replication that consumes large amounts of network resources.
As a large, multi-site organization ourselves, Quantum understands that complex organizations need more simple solutions to protect and manage remote offices that help customers more efficiently move large amounts of data across the wire, keep remote sites in compliance, and reduce IT management time at remote offices.
Ideal for:
Industries such as banks, technology, manufacturing, retail
Geographically dispersed environments needing consistency in data protection
Companies wanting to remove tape at remote or edge sites
Use Case
Protect & Manage Remote Offices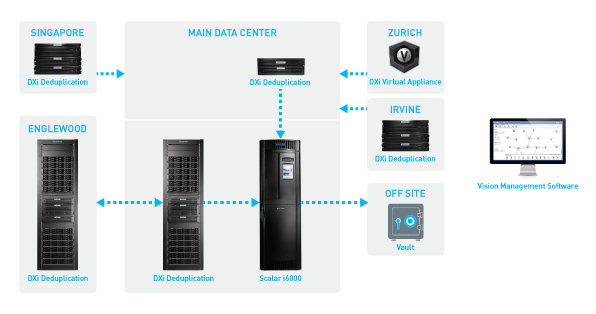 Business Benefits
Eliminate Tape Costs - Realize dramatic decrease in management effort and cost by using disk-based backup at remote sites and in the data center.
Global Centralized Management Tools For Hundreds Of Devices - With centralized management and reporting, the IT Staff is able to spend less time on data protection and more time on strategic projects.
Improve Backup Windows - Disk-based backup is superior at reducing backup windows and also aids with restore performance when needed. With path-to-tape integration, longer-term copies can be done off-process.
WAN-efficient Replication - With only changed blocks replicated and a "set-it-and-forget-it" scheduling tool with built-in bandwidth throttling, big expensive WAN connections are no longer required.
Flexible Deployment Models - With both virtual and physical devices available as backup and replication sources and targets, standardization of data protection technologies with simple broad scale from 1TB-510TBs eases IT management activities.
Thoroughly Secure Data - With a complete security story using AES 256-bit encryption for data-in-flight, and self-encrypting drive technology in the DXi for data-at-rest, this allows for complete security. We use encryption key manager technologies for tape customers so they can comply with confidence.