Quantum Intelligent Management, Reporting and Diagnostics

iLayer Management Technology
Increase staff productivity with reduced backup management and increased storage reliability
For most companies data growth outpaces the ability to grow the resources assigned to manage such growth. This management challenge exacerbates a larger issue with customers' environments: how much of their precious and limited time is spent monitoring and managing the environment at the expense of other more strategic projects.
iLayer™ is intelligence built directly into our products –
intelligent proactive diagnostics,
more in-depth monitoring and reporting capabilities, and
intelligent management and configuration features.
Ultimately, iLayer reduces operational and management expenses related to backup, enabling IT departments to redeploy those resources to work on other strategic projects to enable the business.
Intelligent Proactive Diagnostics
Improve system reliability, reduce downtime, and increase time to resolution
One of the realities of IT and storage is dealing with issues that impact your environment, and backup and DR storage are no exception. But Quantum's iLayer takes a different approach to diagnostics, resulting in improved system reliability, less downtime, and faster time to resolution. Quantum's data protection solutions include iLayer proactive diagnostics – built-in software that constantly monitors the system to intelligently diagnose problems – in some cases before they occur.
iLayer diagnostics includes a few unique elements:
Hundreds of hardware and software sensors built into the system architecture.
Intelligent, "relational" diagnostics software that synthesizes multiple issues to more accurately identify root cause.
Configurable RAS-ticket-based notification options with wizard-based approach to troubleshooting, in some cases with automatic issue resolution.
Lastly, the iLayer diagnostics engine "learns" over time based on the tens of thousands of Quantum systems installed in the field. As issues are encountered, new tickets are created or refined, and rolled into the latest iLayer software versions, meaning your systems will get better at troubleshooting themselves over time.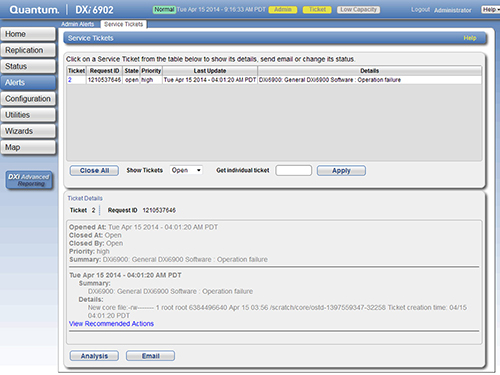 Advanced Reporting and Monitoring
Graphical, chart-based reporting enables precise business decision making
As data protection and archive environments become more complex over time, the ability to monitor those environments and get in-depth, accurate data becomes critical to managing the environment properly. Quantum's DXi® and Scalar® solutions offer Advanced Reporting features designed to provide graphical, chart-based reporting to give administrators insights into the most critical elements of their systems.
DXi Advanced Reporting provides the option to trend deduplication and capacity utilization rates over time, giving users insight to manage their storage more efficiently, and even includes a unique capacity-utilization predictor, helping users predict future investment needs. Advanced Reporting also reports on system performance, with unique multi-layered graphs that allow admins to optimize their system performance around their backup window as well as various background tasks.

Scalar Advanced Reporting is focused on the most critical elements in a tape library – the media and the tape drives. Scalar Advanced Reporting includes graphs that trend media based on tape alerts, providing a simple graphical way to identify potentially suspect cartridges and take action before that tape has a hard failure.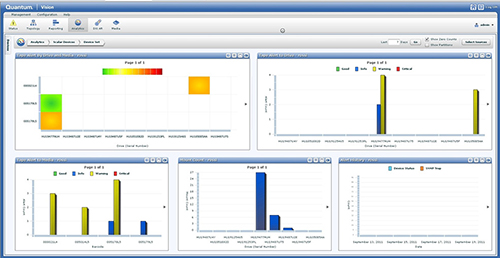 Advanced Reporting can also provide reports capturing all media statistics, enabling administrators to proactively manage their media environments. When it comes to tape drives, Scalar iLayer Advanced Reporting can also trend tape drives based on usage and issues, enabling administrators to balance workloads across tape drives, and predict when additional tape drives are needed to meet business needs.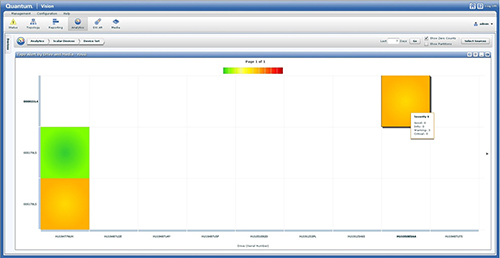 Intelligent Management and Configuration
User-friendly wizards simplify and give confidence for proper configuration, policies and management
Proper setup, configuration, and ongoing management of backup environments takes time. Unique, intelligent management features like set up wizards, proactive troubleshooting wizards, and intuitive graphical user interfaces are part of the iLayer management layer on Quantum data protection solutions.
On the DXi series, unique management features like the graphical replication scheduler make it easier to schedule background tasks associated with deduplication to maximize and optimize system performance.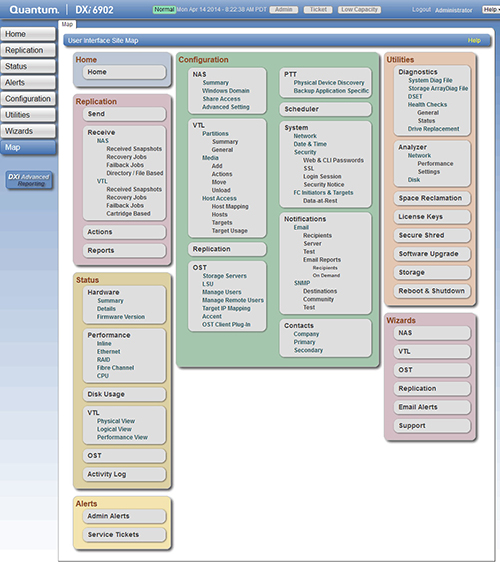 The Scalar series offers many unique features. The library explorer and touch-screen-based user interface make it easy to manage your tape environment in both backup and archive use cases.