Quantum NAS Tape Archive

Use Tape Like Disk to Create a NAS Tape Archive
For departments or workgroups with large files that need an inexpensive, simple accessible archive.
Many companies struggle with growing amounts of unstructured data. While disk is expensive, tape did not provide the file accessibility required, until now. With the latest Linear Tape File System (LTFS) technology, companies can create a NAS LTO Archive for a particular workgroup or department that is simple to use with drag and drop functionality, direct file access using a standard file browser, and files to the archive, view the archive's directories and subdirectories online through any standard file browser, and access files directly from tape without engaging IT.
Ideal for:
CAD Designers and Engineering Groups
Scientists and Research Departments
Graphic Designers and Marketing Departments
Video Editors, Media and Entertainment, or Training Departments
Professors and University Departments
Use Case
Nas Tape Archive For Lecture Videos
Dedicate an entire library to a workgroup or partition part of an existing library. This solution includes a Scalar LTFS Appliance and a Scalar LTO library.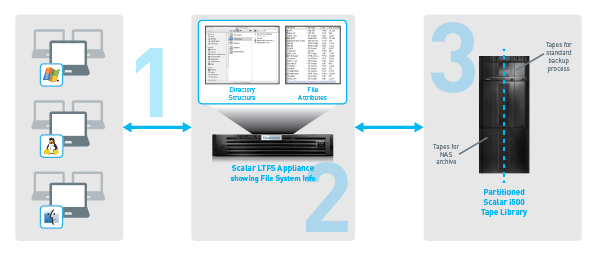 Business Benefits
Reduce Storage Costs - Save in primary storage and backup hardware and software by moving static, unstructured data to an active archive.
Improve Backup - Speed up backups by removing large unstructured content from the backup process.
Easy File Access - Save IT admin time by giving end users direct access to files with a simple file system view and drag and drop functionality.
Fast File Access - Think tape is slow? Think again. Typical LTFS archive access response times are measured in just seconds. Once files are located, transfers are blazingly fast—up to 400 MB/second compressed, 160MB/s native.
Supports Any Open Systems Platform - Windows, Linux, Mac users can all access their data using a direct, file system interface.
Use Existing Infrastructure- Integration with existing network and tape library infrastructure ensures investment protection. Library partitioning allows for part of your Quantum Scalar Tape library to be used for backup and the other part for an active archive.
Simple, Fast Integration - Not only is the solution simple for end users, it's simple for IT. Set up an LTFS NAS archive in as little as an hour.
Portability - Unlike disk, LTO tapes can be removed, shared and stored. And because it is stored in an open format, other business units, clients, or work groups can easily access the data without purchasing additional software.
Peace Of Mind - Instead of business groups going around IT to share and protect data, an LTFS NAS archive keeps the data within IT policies and IT management.