Quantum Vision Reporting Software

Global Management for Your Quantum Disk and Tape Environment
Overview:
Vision® software simplifies multi-site data protection and streamlines the backup process by providing global management of Quantum disk and tape systems through a single console and through mobile devices including iPhone and Android-based devices. Vision gives IT administrators at-a-glance status to provide a quick overview of all systems in all locations. Its status reports provide detailed summaries of component health and operation status, including data deduplication, replication, capacity utilization, and system performance. Its trend analysis reports allow users to make informed, proactive decisions about capacity planning, performance tuning, and troubleshooting to maximize user value and reduce management overhead. Its configuration management feature provides automated discovery to support audit reports comparing current and past configurations. Vision reports are available through easy-to-use management screens and can be scheduled for delivery via email.
Consolidated management of your quantum backup environment
Quantum Vision consolidates vital information about your Quantum disk and tape resources, providing easy-to-use, single-console management of your global backup environment. It also enables full operational control through a direct link to each unit's user interface, providing a single point of monitoring and management across multiple sites and multiple resources. This enables consolidated, efficient management of all systems in the Quantum backup environment.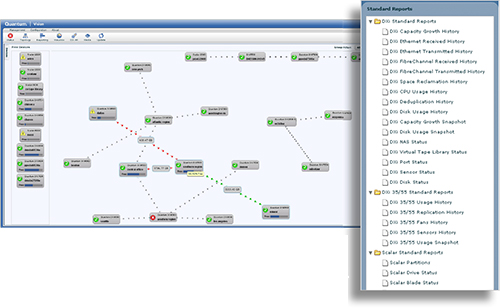 Vision consolidates management for all Quantum physical and virtual disk and tape systems, and also provides status of all units in distributed environments from a single web-enabled console and from mobile devices, including iPhones/iPads and Android-based devices.
Features & Benefits:
Consolidated management of your entire Quantum backup environment – Single-console management for all physical and virtual Quantum DXi®-Series appliances and Scalar® tape libraries from the Vision web client, iPhone and Android app.
Capacity Planning – Vision provides capacity trending over time through the DXi Capacity Upgrade Estimator for Quantum systems enabling accurate growth forecasting.
Configuration Management and Audit – Allows configuration tracking across all physical and virtual (including DXi V1000 and vmPRO) DXi appliances with automated discovery and comparison audits.
Maximize your system performance – Vision enables optimization of the DXi-Series performance by providing detailed historical and real time throughput data.
Proactive System Status Notification – Proactively emails status change alerts to user-defined admin lists for fast problem isolation and resolution.
Reporting – Standard and custom reports can be scheduled and delivered via email to administrators and managers, including those without Vision access.
Quick Status View – Delivers status overview and system configuration display to any location through workstation or mobile devices.
Troubleshooting – Proactively identifies issues across all Quantum systems in any location and gives administrators device-level access to detailed information.
Capacity Planning
Through the DXi Capacity Upgrade Estimator, Quantum's Vision software provides capacity history to report on data volumes stored over time. With this data, users can see how much disk space is remaining and can proactively plan for any future growth or resource requirements. Vision also delivers proactive notification if certain pre-defined capacity thresholds have been reached, further simplifying capacity planning.

Maximize Your System's Performance
Quantum Vision provides detailed performance data for Quantum DXi-Series systems to optimize backup performance. Vision provides this detail in both point-in-time and historical views, which helps to identify opportunities to balance your backup loads and achieve maximum performance. For replication environments, Vision gives detailed information on the performance and history of data transfers between systems.

Proactive Dxi And Scalar System Status Notification
Vision software proactively notifies users via email of any change in status of any Quantum disk or tape system in the environment. Whether users deploy a single DXi appliance or Scalar tape library or multiple systems, Vision provides the peace of mind that comes from knowing that your backups will complete smoothly and on time.
Specifications:
Quantum Vision Specifications
System Requirements for Vision server
Processor
Intel® or AMD (dual-core or better)
Memory
4GB
Disk Space
200GB
OS
Windows Server 2003/2008, Red Hat® Enterprise Linux® 5
Browsers
Microsoft Internet Explorer 6.x and higher (Windows)
Mozilla Firefox 2.x and higher (Windows, Mac OS X, and Linux)
Google Chrome 3.x and higher (Windows, Mac OS X, and Linux)
Apple Safari 4.x and higher (Windows, Mac OS X)
Adobe Flash Player 10.x and higher
Mobile devices
iPhone 4, iPhone 3GS, iPad 1, iPad 2, iPod Touch, Android phone, Android tablet
Supported Products
Quantum vision supports the following products:
Quantum DXi Disk Systems
DXi8500, DXi7500, DXi6701/02, DXi6700, DXi6500, DXi5500, DXi4601, DXi4500, DXi3500, DXi2500-D
Quantum Virtualization Appliances
DXi V1000, vmPRO
Quantum Scalar Tape Libraries
Scalar i6000, Scalar i2000, Scalar i500, Scalar i80, Scalar i40, Scalar LTFS